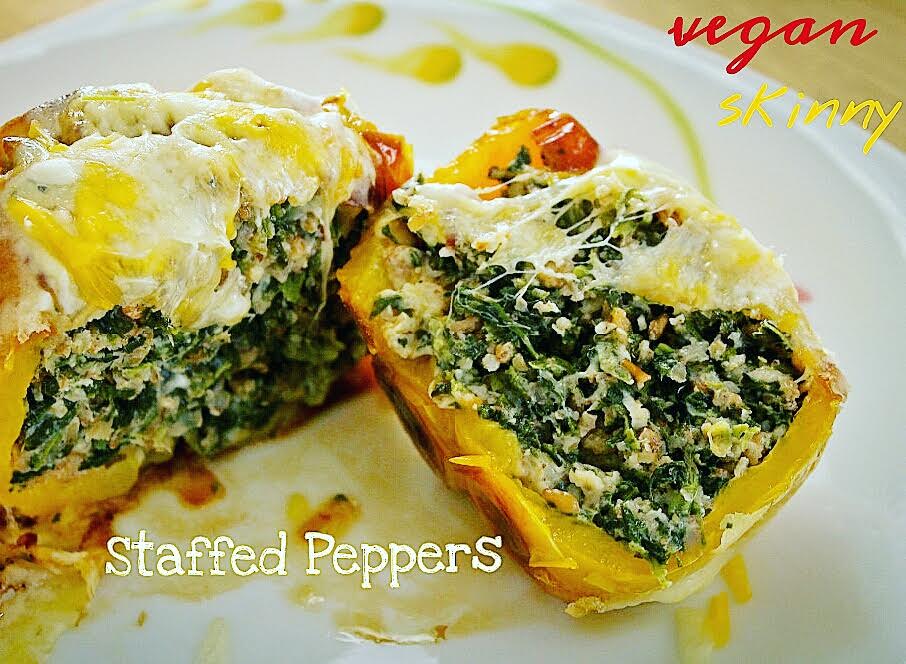 Serving Size
Serves 6
Ingredients
6 large bell peppers
2 boxes 10 oz each frozen spinach, chopped
2 ½ cups gluten-free rolled oats
1 cup your favorite tomato sauce
2.5 cups water, warm
3 garlic cloves, minced
2 tablespoons vegan Hampton Creek Just Mayo
1/2 cup vegan Daiya Pepperjack Style Shreds
1 tablespoon balsamic vinegar
2 tablespoons dark maple syrup
3 tablespoons Mrs.Dash Garlic & Herb seasoning salt-free blend
1/4 teaspoon black pepper
For the topping:
1/3 cup vegan Daiya Pepperjack Style Shreds
2 tablespoons vegan Hampton Creek Just Mayo
 For the flax eggs:
3 tablespoons flax meal
7 tablespoons water
 Directions
For the flax eggs:
Whisk the flax meal with water and let it sit for 5 min.
Place rolled oats into the large bowl with warm water. Allow to sit for 15 minutes.
Defrost the spinach and drain all excess water.
Combine the flax eggs with 1/4 cup vegan cheese, garlic, maple syrup, balsamic vinegar, Mrs.Dash and black pepper. Add spinach to the mixture.
Drain any excess water from the oats, and using your hands, mix in into the cheese stuffing.
Preheat oven to 375F degrees Fahrenheit.
Wash the peppers, cut tops out and remove the seeds.
Stuff peppers with the spinach/oats/cheese mixture.
Place them on a baking pan.
Carefully pour the tomato sauce over the peppers.
Top them with more cheese, and vegan mayo.
Cook uncovered in standing position approximately for 40-45 min.