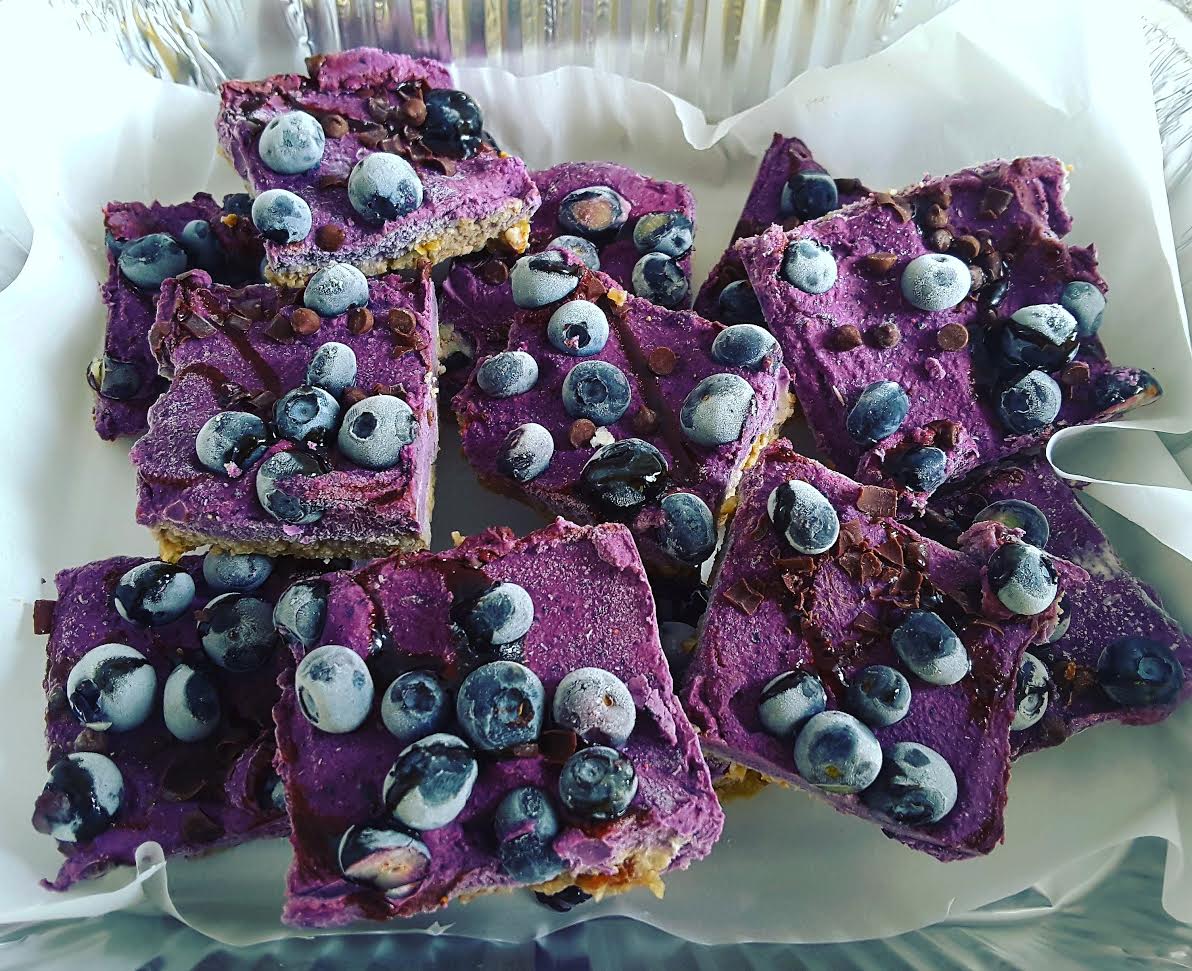 Serving Size
Serves 12-14
Ingredients
For the Crust:
1 cup almonds, raw
2 cup walnuts, raw
20-22 Medjool dates pitted
1 ½ Tablespoon water
For the Blueberry Cream Filling:
3 cups raw cashews, soaked in water overnight or for 8 hours
1 ½ cups fresh blueberries
½ cup dark maple syrup
½ cup coconut oil, refined, melted
1 teaspoon vanilla extract
3 Tablespoons fresh lemon juice
For the Top(optional):
1/3 cup cups fresh blueberries
2 Tablespoons balsamic glaze
Handful of non-dairy chocolate
 Directions
Add ingredients for the cream to the food processor and process until very smooth. Spoon the blueberry filling into the large bowl, and set aside. Do NOT refrigerate!
Next in a food processor (no need to clean between making this and the cream), combine all ingredients for the crust and process until smooth and able to stick together.
Then line a 13 x 9-inch pan with parchment paper and firmly press the crust mixture into the pan.
Next, gently spread an even layer of cream over the crust.
Top with fresh blueberries, non-dairy chocolate, and drizzle with balsamic glaze*.
Refrigerate overnight or for 7-8 hours.
Place in freezer for 10-12 before serving.
Variations:
You can make mini pies, using the muffin pan or cheesecake springform pan for the one big cake.
Also strawberries or blackberries can be used in place of the blueberries.
*How to make balsamic glaze