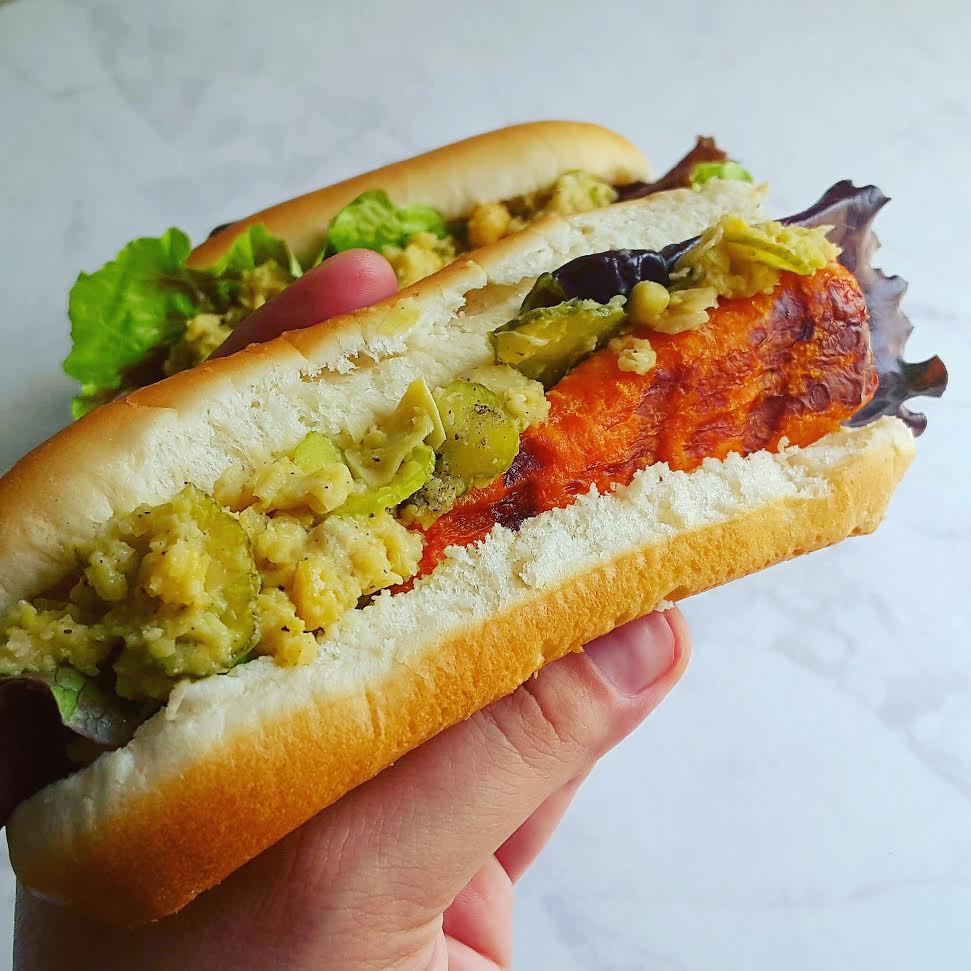 Grilled Smoky Carrot Dogs with Artichoke Salad
Serving Size
Serves 12 people
Ingredients
12 med. carrots, washed, peeled
12 vegan hot dog buns
4-5 large lettuce leafs
For the marinade:
3 Tablespoons low sodium soy sauce (or 4 Tablespoons Coconut Aminos for even lower sodium version)
2 Tablespoons olive oil
2 Tablespoons ketchup
1 Tablespoon coconut sugar
1 Tablespoon apple cider vinegar
1 garlic clove, minced
2 teaspoons vegan liquid smoke
1 teaspoons dried basil (or 1 Tablespoon fresh, minced)

¾ cup water
For the creamy bean salad:
Two 15.5 oz garbanzo beans cans
12 marinated artichoke hearts
8 Vlasic Kosher Dill Baby Wholes pickles, sliced very thin (or 4 any of your favorite medium pickles)

3 Tablespoons olive oil
1 Tablespoon apple cider vinegar
Pinch black pepper
Directions
Boil or steam the carrots until soft but not too mushy. Allow them to cool down.
Mix all ingredients for the marinade in a bowl, and pour into a plastic Ziploc bag. Gently add carrots.
Place into the refrigerator overnight or for at least 4 hours.
In a food processor, combine chickpeas, artichokes, oil, vinegar, and black pepper. Gently chop and mix in the pickles
Don't chop the salad too much!
Place the salad into a storage container, and refrigerate.
Next day simply grill the carrot dogs until they have nice dark grill marks(or fry on a regular non stick pan)!
Serve on buns with the creamy bean salad, and some lettuce.